Creating a Safe and Secure Environment
Dogs are pack animals by nature, and you are an integral part of their pack. Just as dogs in a wild pack would comfort and groom each other, your dog views you as a family member in need of care. By licking you, they aim to create a safe and secure environment where you feel protected. This behavior is rooted in their natural instincts to strengthen the pack bond and ensure the well-being of every member.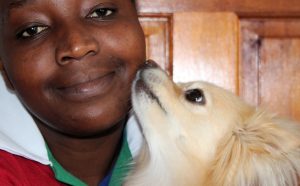 The next time your dog showers you with affectionate licks while you cry, remember that it's not just a random act of kindness. Their behavior is a beautiful mix of instinct, love, empathy, and a desire to provide solace during your vulnerable moments. Dogs have a unique ability to understand our emotions and respond with genuine care, making them truly remarkable and cherished companions. Embrace the love they offer, as their presence can be a source of tremendous comfort in both happy and challenging times.